Food & Dry Ingredient Handling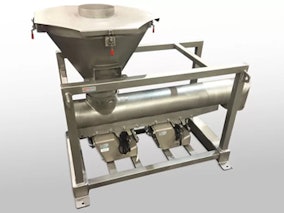 Syntron Material Handling (SMH) is a supplier of screening feeders and troughs used in the food and pharmaceutical processing industries. All Syntron feeders are designed for low maintenance. There are no bearings, rollers, pulleys, or chains to lubricate and replace; no drive belts to stretch and slip; no mechanical wearing parts. Syntron vibrating feeders have been selected for hundreds of installations because of their versatility. Syntron light industry electromagnetic vibrating feeders are furnished with mild-steel or stainless-steel troughs. Mild-steel troughs are painted or powder-coated inside and outside with a high-quality polyurethane. To meet food and pharmaceutical requirements, troughs are available in a variety of stainless-steel finishes.
See the Food & Dry Ingredient Handling page on this company's website.
Types of Food & Dry Ingredient Handling
Dry Product Feeders
Processing Conveyors/Conveyance