Food & Beverage Processing Equipment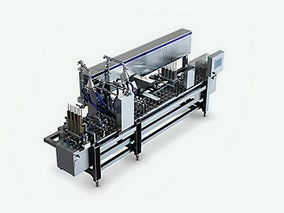 Tetra Pak manufactures a vast array of equipment used for food processing, with a focus on cheese, ice cream and powder processing applications. Food processing equipment offered by Tetrapak includes blending, mixing, and spray drying equipment for food processing; forming and draining equipment for cheese production, ice cream extrusion, depositing and freezing equipment; and sifting, mixing and blending equipment for powder lines. Featured systems include the Tetra Pak® Ice Cream Filler range for automatic filling of ice cream, sorbet and water-ice products into cups and cones and the Tetra Pak® Chocolate Enrober.
See the Food & Beverage Processing Equipment page on this company's website.
Types of Food & Beverage Processing Equipment
Centrifuges & Separators
Chillers, Freezers & Cooling Equipment
Coating, Enrobing, Seasoning & Decorating Machines
Depositors
Forming & Extruding Equipment
Mixing & Blending Equipment
Spray Dryers & Agglomerators
Features:
Dry process

Hygienic (low-moisture)

Washdown (wet)

Wet