Food & Beverage Processing Equipment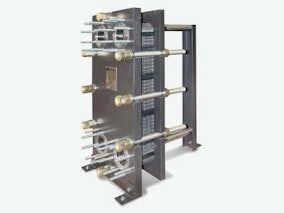 Thermaline manufactures a range of gasketed plate heat exchangers and corrugated tube heat exchangers for dairy, juice, condiment, wine, and beer processing applications. Thermaline's patent pending Smart Identification System (SIS) laser etches vital plate information on an external tab that is visible at a glance even when the unit is assembled, safeguarding against human error. Deep channels allow for gentle processing of food products and better cleanability. Sanitary heat exchangers are completely cleanable with no enclosed boxes to harbor bacteria. Other heat exchangers include the Tag Team automated plate heat exchanger and a range of industrial plate heat exchangers.
See the Food & Beverage Processing Equipment page on this company's website.
Types of Food & Beverage Processing Equipment