Case Packing Equipment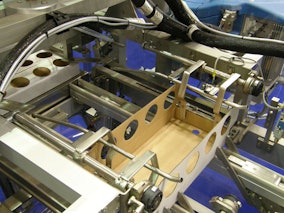 Trepko's end-of-line equipment includes wraparound case packers and tray erecting machines. The 710 Series of wraparound packers handles a variety of packaged products in various shapes and sizes. Capable of using different patterns in the box as well as using different boxes on the same machine, the 710 features easy changeover for a different size or shape of the box to handle the possibility of future additions or package changes. The 720 Series of tray erecting machines features a design that uses angular, overlaying blanks magazine designed in aluminum with capacity for approximately 165 pcs. of 3 mm B-flute blanks. A special blanks separator prevents more than one blank being pulled down at once. The magazine is fed at chest height, which can take place during operation.
See the Case Packing Equipment page on this company's website.
Types of Case Packing Equipment
Case or Tray Erect/Load/Seal (Integrated)
Case or Tray Erectors & Formers
Features:
Corrugated tray

Semi-automatic

Wraparound
Package Types:
Bag

Carton (Folding)

Chub Pack

Cup, Bowl or Tub

Lined Case

Overwrap

Pouch

Sachet

Stand-up Pouch

Stick Pack

Tray