Food & Dry Ingredient Handling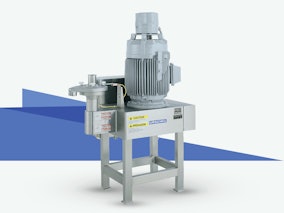 Urschel supplies Comitrol® brand industrial milling equipment for food and liquid processing applications. Featured milling machines include the Comitrol Processor Model 1500, specifically designed for viscous and liquid product applications where refining or finishing of free-flowing liquids or viscous slurries is desired, such as fruit nectars, soy beans, ketchup, barbecue sauce, vegetable purees, beverage concentrates, and creams and ointments. The Comitrol Processor Model 2100 milling system features a large feed hopper and an impeller that may be equipped with a 40 or 60 HP (30 or 44.7 kW) motor. The machine features continuous operation for uninterrupted production, and is designed for easy cleanup and maintenance in applications including vegetable processing, beef/poultry/seafood and byproducts, chili/garlic/ginger/ bean pastes, biscuit/bakery rework, and seaweed.
See the Food & Dry Ingredient Handling page on this company's website.
Types of Food & Dry Ingredient Handling
Milling & Grinding Equipment