Food & Dry Ingredient Handling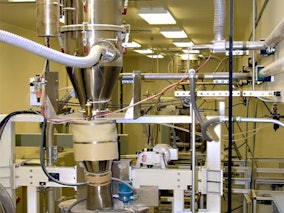 Vac-U-Max supplies a wide range of ingredient and product handling equipment, specializing in custom pneumatic conveying systems and support equipment for conveying, vacuum conveying, batching, and weighing dry materials, such as vacuum conveyors and aero-conveyors. Vacuum conveying systems move product such as bulk powders for pharmaceuticals and nutraceuticals and multi-ingredients for food/beverage applications gently and quickly from point to point, with nothing in the way to impede the efficiency of its movement. Vac-U-Max also supplies bag dump stations as well as flexible screw conveyors to transport dry bulk materials at a reduced cost.
See the Food & Dry Ingredient Handling page on this company's website.
Types of Food & Dry Ingredient Handling
Bulk Handling & Weighing Equipment
Dumping Stations
Processing Conveyors/Conveyance