Pre-made Bag Loading & Sealing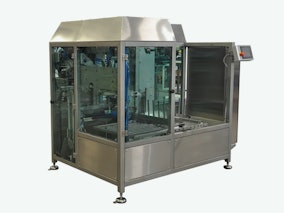 The Pouch Bagger is a single pouch bagging machine that easily bags product in common, pre-made pouch-style bags. Optional sealing units can be added to automate the sealing process. Options include a heat sealer and/or zip lock closer. The Pouch Bagger allows facilities to move away from costly and labor-intensive manual pouch bagging to affordable, high-speed automation. At up to 20 bags per minute, the Pouch Bagger can help keep up with consumer demands and can be equipped with soft handling features. Typical applications include: cherries, apples and citrus.
See the Pre-made Bag Loading & Sealing page on this company's website.
Types of Pre-made Bag Loading & Sealing
Bag Closing Equipment
Bag Loading, Filling & Sealing
Bag/Pouch Sealing Equipment
Features:
Automatic

Heat seal

Stand-up pouch

Zipper
Package Types:
Pouch

Stand-up Pouch