Case Packing Equipment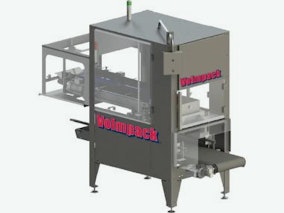 The Volmpack Case Packer lineup offers a compact, high-speed, fully automated case packing system that can integrate with existing packing lines seamlessly. Using the touch screen computer, operators change packing layouts easily and can move between different packing lines with little disruption. With this versatility, users can have multiple packing configurations to fill trays, crates, or boxes. Common uses include case packing applications for carrots, citrus fruits, frozen produce, grass seed, onions and potatoes. Available options include empty box drag-in from all directions, full box push-out to all directions, and internal lift for a secure drop of products. Runs cases of various sizes up to 50 packages/min.
See the Case Packing Equipment page on this company's website.
Types of Case Packing Equipment
Features:
Automatic

Corrugated tray

Vertical/Top/drop load
Package Types:
Bag

Clamshell