Packaging Inspection Equipment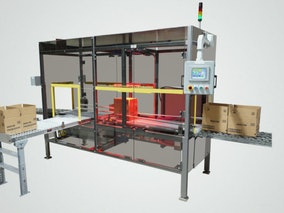 Wayne Automation offers vision inspection systems specifically designed for case packing applications. The WVI-FC Vision Inspection and Rejection System is a standalone unit that identifies improperly loaded cases through visual inspection and sends rejects off-line. The unit inspects packed cases for missing bottles, mispacked containers, and missing or damaged inner packing. It also inspects for multi-SKU pack verification and multi-tier pack validation. Another model, the WVI integrates with other equipment on a case packing operation to visually inspect cases to ensure that all partitions, carriers, or bottles are properly seated into the case and sends rejected cases off to the side. The system can also indicate missing partitions or basket carrier inserts or missing containers.
See the Packaging Inspection Equipment page on this company's website.
Types of Packaging Inspection Equipment
Vision Inspection Systems
Package Types:
Lined Case