Case Packing Equipment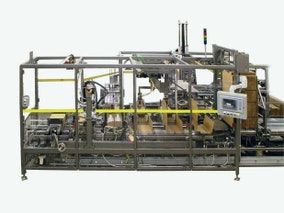 Wayne Automation makes a wide range of case and tray packing equipment with a focus on tray packers, wraparound case packers, and RSC case packers. Product line includes case formers, case erectors, case sealers, automatic tray formers, case partition inserters, basket carrier erectors/inserters. Wide range of packing capabilities that include partitions or glued-in C-pad inserts to ensure secure packing for any product. Wayne offers flexible design components, such as systems that come with fully automatic loading or with manual load stations, depending on needs and budget.
See the Case Packing Equipment page on this company's website.
Types of Case Packing Equipment
Case or Tray Erect/Load/Seal (Integrated)
Case or Tray Erectors & Formers
Case or Tray Loaders
Case Sealers
Pad/Partition Inserters/Dispensers
Features:
Auto load

Automatic

Bottom load

Case liners

Corrugated tray

Horizontal/End/Side Load

Manual load

Semi-automatic

Vertical/Top/drop load

Wraparound