Food & Beverage Processing Equipment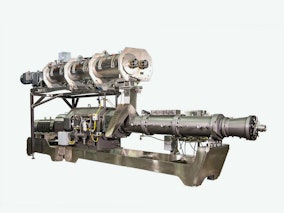 Wenger Manufacturing supplies extruders, ovens, coolers and dryers used in food and snack, pet food and other industrial processing applications. The intermeshing co-rotating conical screws of the C2TX extruder have a unique profile that kneads the dough mass as it is forced through the barrel. Wenger's low shear, sanitary and thermally efficient single screw forming extruders are designed for the production of many delicately formed and shaped food products such as flaked cereals. Other equipment from Wenger includes conveyor dryers, enhanced sanitary dryers, double-wall vertical coolers, product coating and enrobing equipment and more.
See the Food & Beverage Processing Equipment page on this company's website.
Types of Food & Beverage Processing Equipment
Chillers, Freezers & Cooling Equipment
Coating, Enrobing, Seasoning & Decorating Machines
Forming & Extruding Equipment
Features:
Dry process

Semi-automatic