Case Packing Equipment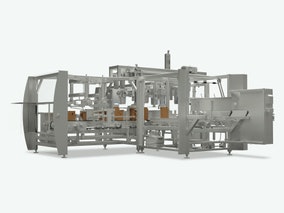 Westrock is an original equipment manufacturer of automated case and tray packers as well as wraparound case packers, case formers, case sealers and related equipment. Featured machines include the Encasr wraparound case packer, an intermittent motion wraparound case packer designed to provide the flexibility needed to satisfy various retailer requirements. Offering a modular design, this machine handles a wide range of product types and sizes. The highly flexible product infeed adjusts quickly to allow for multiple pack patterns. Because of its innovative blank handling system, the machine can adapt to an industry-leading range of shipping case sizes including small depth designs and can be configured to run a variety of standard shipper and shelf-ready packaging formats.
See the Case Packing Equipment page on this company's website.
Types of Case Packing Equipment
Case or Tray Erect/Load/Seal (Integrated)
Case or Tray Erectors & Formers
Case or Tray Loaders
Case Sealers
Package Types:
Carton (Folding)

Lined Case