Packaging Inspection Equipment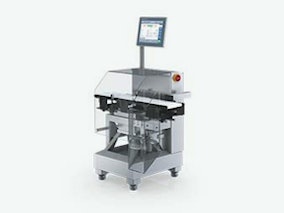 WIPOTEC-OCS provides high performance, process and customer-orientated weighing and inspection solutions. Stand-alone weighing and OEM integration solutions are tailored exactly to machine and line requirements, with primary target industries in the consumer packaged goods/food, healthcare, and mail and logistics sectors. Company's E-M-A checkweigher portfolio is designed to run accurately at top speeds, for high throughputs and increased packaging line efficiency. WIPOTEC-OCS metal detectors, which can be used standalone or in combination with check weighing systems, reliably detect any contamination of products by the finest metal particles. X-ray inspection systems include the SC-E, designed to meet the most stringent requirements of foreign body detection. With an optional comprehensive software package, the scanner becomes versatile for numerous applications, and reliably performs count, completeness, fill-level checks, and mass determination.
See the Packaging Inspection Equipment page on this company's website.
Types of Packaging Inspection Equipment
Checkweighers
Fill Level Inspection
Metal Detectors
Package Integrity Testing
Thermal Scanners
Vision Inspection Systems
X-Ray Systems
Features:
Automatic

Entry-level/budget models available

Semi-automatic
Package Types:
Ampoule or Vial

Bag

Bag-in-box for Liquids

Blister for Tablets

Blister Pack (Retail)

Bottle or Jar

Brick Pack (Laminate)

Can or Canister

Carton (Folding)

Carton (Gabletop)

Cartridge

Chub Pack

Cup, Bowl or Tub

Flow Wrap

Heavy Duty Industrial Sack

Large Bag

Lined Case

Overwrap

Portion Pack Cup

Pouch

Sachet

Sleeve

Stand-up Pouch

Stick Pack

Thermoformed Semi-rigid Pack

Thermoformed Vacuum Pack

Tray

Tube (Flexible)

Vacuum Shrink Pack

Vacuum Skin Pack