Pre-made Tray/Cup/Bowl Packaging Equipment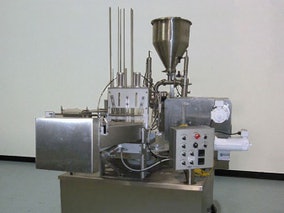 World Cup Packaging builds equipment that fills products into pre-made inter-stackable cups or containers. Range of tabletop, semi-automatic, and fully automatic rotary and inline machines will fill and seal cups, tubs, and trays ranging in volume from 1- to 80 oz., and at rates from 3 to 300 containers per minute. Applications include dairy foods, dry foods, candies, juices, sauces, putties and compounds, desserts, salads, yogurts, salsa, seeds, pet food, medicines, powders, syrups, granulated products, cookie dough and caramel corn, among others. Filling systems include multiple head scales, Vemag viscous product fillers, auger fillers, vibratory scales, pocket fillers, and piston fillers.
See the Pre-made Tray/Cup/Bowl Packaging Equipment page on this company's website.
Types of Pre-made Tray/Cup/Bowl Packaging Equipment
Product Loading into Trays, Cups & Bowls
Tray, Cup & Bowl Sealing
Features:
Automatic

Entry-level/budget models available

Manual

Rotary

Semi-automatic
Package Types:
Cup, Bowl or Tub

Tray