Pre-made Bag Loading & Sealing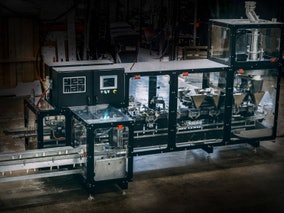 Five different models of pre-made pouch fillers are capable of filling and sealing pre-made pouches up to 24 lb. at rates as high as 70/ppm. Pre-made pouch pick/fill/seal machine receives pre-made pouches from a horizontal magazine feeder. A servo-driven intermittent rotary pick-and-place selects and rotates the pre-made pouches to a registered position where the pouch grippers grasp the tops of the pouches with precision. The grippers deliver the pouches to the opening station where pneumatic suction cups engage the front and back panels of the pouch to pull it open as mechanical arms reach into the pouch to unzip the zipped pouches. Systems are suitable for liquids, candies, cannabis, coffee, stick packs, cookies, frozen dough, even macaroni and cheese or hardware kits.
See the Pre-made Bag Loading & Sealing page on this company's website.
Types of Pre-made Bag Loading & Sealing
Bag Loading, Filling & Sealing
Features:
Quad-seal bags

Stand-up pouch

Stick pack

Tri-seal bags