Product & Package Handling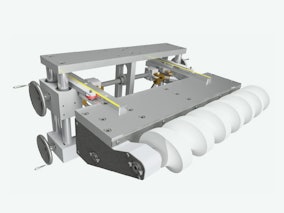 Timing Screw Drives from ABOX Automation are designed to be a cost effective way to add high speed indexing to a variety of bottles and containers. With its modular design, the unit can be attached to any machine or conveyor with ease. The units also come with tool less screw change over capabilities allowing for quick setup. Both the height and depth are easily adjusted with a simple hand wheel and each have indicators for repeatable set ups. Several motor options are available including DC with a clutch, stepper, or servo.
See the Product & Package Handling page on this company's website.
Types of Product & Package Handling
Package Types:
Bottle or Jar