Facility Design & Engineering Services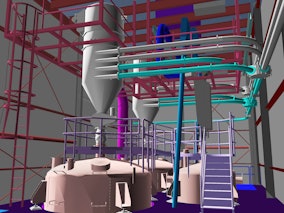 Focused on design/build services for the food and beverage industry, Dennis Group provides a comprehensive range of services. The in-house team at Dennis Group is experienced in executing projects from conception through start-up, or providing engineering assistance on specific areas. Dennis Group's expertise extends from facility design and performance auditing to food safety, sustainability and LEED certification, automation and controls design, environmental engineering, process design, packaging systems and more. Whether it is a large project close to $200 million or a relatively small one under $10,000, Dennis Group has the capabilities to execute everything internally or involve the relevant external subject matter specialists when appropriate for the project. Recent projects have included designing and building bakery, fruit, dairy, dips, meat, frozen foods, beverages, snacks, confectionery, and distillery facilities.
See the Facility Design & Engineering Services page on this company's website.
Types of Facility Design & Engineering Services
Engineering Services
Facility Design & Construction
Process Validation
System Integrators