Case Packing Equipment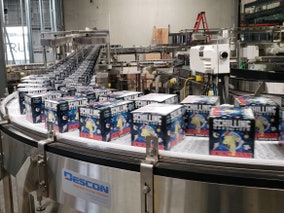 Descon's robotic pick-and-place case packing system utilizes servo controls to accurately and continuously pack loose bottles into formed corrugated boxes. Features heavy-duty welded stainless steel frame and pivoting access doors, custom gripping head for picking up glass bottles, and precision end-of-arm tooling for accurate transfer of bottles.
See the Case Packing Equipment page on this company's website.
Types of Case Packing Equipment
Features:
Adhesive

Auto load

Automatic

Horizontal/End/Side Load

Manual

Manual load

Robotic

Robotic loading

Semi-automatic

Tamper-evident

Tape

Tool-less changeover

Vertical/Top/drop load
Package Types:
Bag-in-box for Liquids

Bottle or Jar

Brick Pack (Laminate)

Can or Canister

Carton (Folding)

Carton (Gabletop)

Cup, Bowl or Tub

Lined Case

Portion Pack Cup

Sleeve

Tray

Vacuum Skin Pack