Product & Package Handling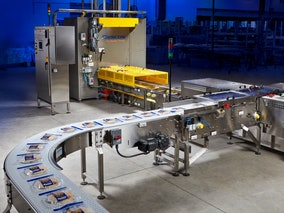 Descon designs and builds product and packaging handling solutions for the food and beverage industries, including a range of transfers, elevator conveyors, and side-grip elevators. Vacuum transfer and elevator conveyors support applications such as the removal of down cans from the line or other applications that involve a sudden change in elevation. In horizontal format, the system can handle down can removal and empty can coding applications. Vertical format applications include mass transport of single file but can also be custom designed to suit nearly any elevation change. Side grip elevator for vertical transport applications offers an effective means of elevating or lowering a variety of containers and products when space is at a premium. Product is gently but firmly gripped by the sides and carried through the change in elevation at speeds up to 300 fpm. Side grippers are a soft, pliable material, guaranteed not to damage the container.
See the Product & Package Handling page on this company's website.
Types of Product & Package Handling
Case Unloaders
Denesters
Dumpers & Bulk Unloading
Elevators & Lowerators
Lane Dividers, Merge & Transfers
Stacking Machines
Tray/Crate Handling Machines
Features:
Collating

Counting

Indexing

Inverting

Robotic

Tool-less changeover
Package Types:
Bag

Bag-in-box for Liquids

Bottle or Jar

Brick Pack (Laminate)

Can or Canister

Carton (Folding)

Carton (Gabletop)

Cup, Bowl or Tub

Keg or Cask

Large Bag

Lined Case

Pail

Portion Pack Cup

Sleeve

Tray