Process Inspection Equipment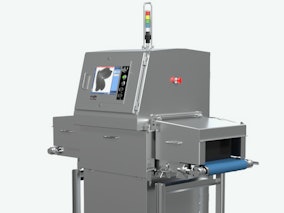 Eagle's inline food x-ray inspection systems are designed for the detection and removal of foreign contaminants including glass shards (even in glass bottles and jars), metal (including metalized film packaging), mineral stone, some plastic and rubber compounds and calcified bone for a broad range of industries. Applications include calcified bone and foreign body detection for poultry and contaminants and fat analysis for red meat processing. Technologically-advanced food x-ray inspection equipment increases production productivity and saves manufacturing costs by simultaneously performing the following quality checks in just one pass, including fill level inspection, mass measurement, seal inspection and component counts. Featured machines include the Pack 400 HC detector, with PXT™ detector technology capable of detecting contaminants and bone fragments that would otherwise go unseen to the naked eye.
See the Process Inspection Equipment page on this company's website.
Types of Process Inspection Equipment