Rigid container closing equipment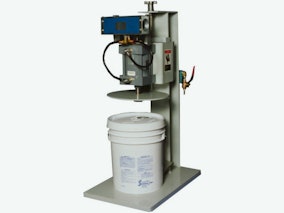 Heisler Industries lid placers and closers are designed to dispense, position and seal a plastic or metal lids on filled containers, such as pails, trays, bins, rounds, cans, buckets, totes, squares, tubs, crates, ovals, rectangulars and kits. These machines come in fixed or adjustable models. For lids that require orienting, the Heisler Lid Placer can be equipped to orient a spout in relation to the handle. Lid Placers can dispense up to 40 lids per minute. Semi-automatic to fully automatic models are available with closer options including roller, traversing press, crimping, and screw-on. Closer models include the E Series Lid Placer, offering quality and durability but is geared to those users whose line speeds are usually not more than 10 containers/minute. The P300 Manual Lid Press, securely compresses plastic lids onto pails, including DOT specified pails. The P300-MAH, Motorized Adjustable Head, performs the manual operation of securing a press on style plastic lid onto a pail, accommodating 3-7 gallon pails with its pneumatically motorized head. The P300-ALH Adjustable Line Height Press securely seals lids onto a variety of containers using a press plate and is adjustable to different line and pail heights.
See the Rigid container closing equipment page on this company's website.
Types of Rigid container closing equipment
Package Types:
Pail