Product & Package Handling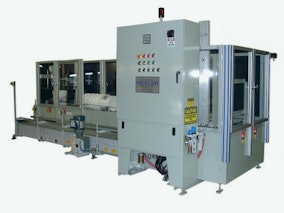 Heisler Industries manufactures a denester that eliminates the demanding, time consuming and tedious task of manually separating plastic or metal pails, significantly improving production capacity and profitability. Designed and built in the USA, this high speed, PLC-controlled machine is made to exacting standards for trouble free, continuous use under varying conditions. Denester can denest round, square, rectangular, and oval buckets. A stack of pails is placed on the infeed conveyor and is delivered to the tilter arm, which converts the stack from the vertical to the horizontal position. The stack then advances to the separator mechanism, which holds the stack and removes one pail at a time. Each separated pail is fed to the upender, which transfers the pail to an upright position. The entire system continues to operate even as new stacks of pails are loaded. Standard Denester can denest and position containers for filling at a speed of 25/minute. Other denesters include the Compact Denester running at speeds of up to 15/min and the E-Series Denester, providing a compact solution in a modular and economical package for users whose line speeds are usually not more than 10 containers/minute.
See the Product & Package Handling page on this company's website.
Types of Product & Package Handling
Denesters
Lane Dividers, Merge & Transfers
Stacking Machines
Features:
Entry-level/budget models available
Package Types:
Pail