Pre-made Bag Loading & Sealing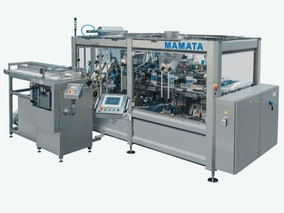 Mamata's Vegapack PFS-Series pick, fill and seal system is specifically designed for higher speed pre-made pouch filling applications in the food, flour, personal care and pet food markets. Handles large format pouches and rapid changeover in a matter of minutes. Engineered for flexibility with a versatile pouch transport system, it is a suitable machine to convert a semi-automatic or manual operation to highly efficient packaging operation to reduce per pack cost on filling. Suitable for companies requiring multiple changeovers and packaging a wide variety of products. The system can be integrated with a wide variety of OEM filling systems, coding systems and validation equipment and handles speeds of up to 60 ppm.
See the Pre-made Bag Loading & Sealing page on this company's website.
Types of Pre-made Bag Loading & Sealing
Bag Closing Equipment
Bag Loading, Filling & Sealing
Bag/Pouch Sealing Equipment
Features:
Automatic

Controlled atmosphere packaging

Heat seal

Hygienic (low-moisture)

IIoT ready

Intermittent motion

Liquids

Modified atmosphere packaging

Powder

Quad-seal bags

Semi-automatic

Stand-up pouch

Tool-less changeover

Tri-seal bags

Two-stage filling

Washdown (wet)

Zipper