Packaging Inspection Equipment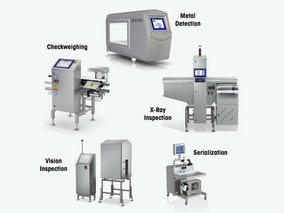 Mettler Toledo's broad range of product inspection systems includes checkweighers, metal detectors, x-ray inspection systems, track and trace systems, vision inspection, and more. Systems are made for all types of bulk and packaged products for environments ranging from dry to harsh wash-down and can detect solid contaminants, verify product weights, mark and verify packages, ensure accuracy and integrity of packaging and labels, confirm component content, inspect closures, and measure fill levels.
See the Packaging Inspection Equipment page on this company's website.
Types of Packaging Inspection Equipment
Cap, Lid & Flap Detection
Checkweighers
Fill Level Inspection
Metal Detectors
Package Integrity Testing
Vision Inspection Systems
X-Ray Systems
Features:
Automatic

Entry-level/budget models available

Online
Package Types:
Ampoule or Vial

Bag

Bag-in-box for Liquids

Blister for Tablets

Blister Pack (Retail)

Bottle or Jar

Brick Pack (Laminate)

Can or Canister

Carton (Folding)

Carton (Gabletop)

Cartridge

Chub Pack

Clamshell

Cup, Bowl or Tub

Flow Wrap

Heavy Duty Industrial Sack

Keg or Cask

Large Bag

Lined Case

Overwrap

Portion Pack Cup

Pouch

Sachet

Sleeve

Stand-up Pouch

Stick Pack

Thermoformed Semi-rigid Pack

Thermoformed Vacuum Pack

Tray

Tube (Flexible)

Vacuum Shrink Pack

Vacuum Skin Pack