Case Packing Equipment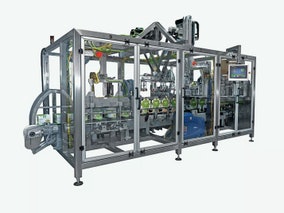 Nuspark designs automatic and robotic case and tray packing equipment, including single cell case packers, single tray packers, tray formers, and robotic top loaders for cases, trays and cartons. Highlights from the Nuspark line include the NCP-25 Single Cell Case packer runs up to 25 cases per minute in a small footprint. The NTP-50 Single Cell Tray Packer uses a Delta 2-axis robot and combines three separate operations into a single unit, forming the tray/carton, loading the product, and sealing all within one frame, at rates of up to 50 trays/cartons per minute.
See the Case Packing Equipment page on this company's website.
Types of Case Packing Equipment
Case or Tray Erect/Load/Seal (Integrated)
Case or Tray Erectors & Formers
Case or Tray Loaders
Case Sealers
Features:
Automatic

Robotic

Robotic loading

Vertical/Top/drop load
Package Types:
Carton (Folding)