Case Packing Equipment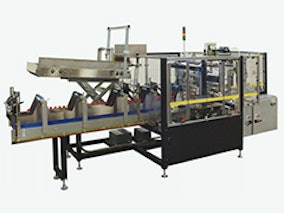 nVenia, a Durant Company, makes case and tray packers for high-production packaging of metal cans, paper cans, glass jars, glass bottles, plastic bottles, bags and many other products. Widely used in major industries such as food and beverage, automotive, personal care, household products, pharmaceuticals and hardware, case packing equipment is easily integrated with existing packaging lines. Arpac Brand tray packing equipment and case packing equipment utilizes minimal amounts of shrink film and corrugated, often resulting in substantial material cost reduction. Case and tray packers usually require no inserts or partitions to hold products in place, further decreasing expenses and simplifying the packing process. Automatic case and tray packers relieve packaging line employees from repetitive and sometimes strenuous work, enabling them to focus on more productive activities. Some standard models are capable of handling 60 packages per minute. Shrink-wrapped cartons and trays hold products securely in place, even heavy items such as canned foods and bottled beverages. Shrink film is strong enough to resist puncturing and withstand rough handling.
See the Case Packing Equipment page on this company's website.
Types of Case Packing Equipment
Case or Tray Erect/Load/Seal (Integrated)
Case or Tray Erectors & Formers
Case or Tray Loaders
Case Sealers
Features:
Adhesive

Auto load

Automatic

Corrugated tray

E-commerce

Entry-level/budget models available

Horizontal/End/Side Load

IIoT ready

Manual load

Pad/partition inserters/dispensers

Robotic

Robotic loading

RSC-pre glued

Semi-automatic

Tape

Tool-less changeover

Vertical/Top/drop load

Wraparound
Package Types:
Bag-in-box for Liquids

Bottle or Jar

Brick Pack (Laminate)

Can or Canister

Carton (Gabletop)

Cup, Bowl or Tub

Lined Case

Tray