Pre-made Tray/Cup/Bowl Packaging Equipment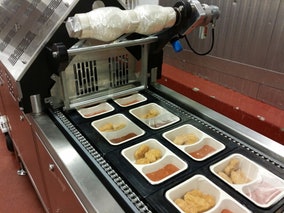 Precision PMD designs and manufactures film membrane sealing systems for pre-formed rigid and semi-rigid containers as well as a complete line of denesters for paper, plastic and foil containers. Precision PMD sealers can seal paperboard and plastic trays and cups. Machines are designed to fit specific application needs for today with the ability for growth in the future. Precision PMD's pre-made tray and cup fillers range from lower volume, intermittent models to continuous machines for higher volume applications. All Precision PMD denesters can be servo driven or can be mechanically linked to an existing system's drive source.
See the Pre-made Tray/Cup/Bowl Packaging Equipment page on this company's website.
Types of Pre-made Tray/Cup/Bowl Packaging Equipment
Denest/Fill/Seal (Integrated)
Product Loading into Trays, Cups & Bowls
Tray, Cup & Bowl Sealing
Package Types:
Cup, Bowl or Tub

Tray