Package Forming Equipment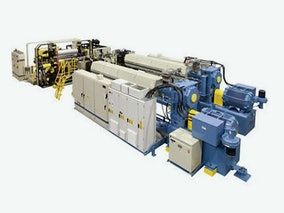 PTi provides inline thermoforming and roll stock production for packaging applications. PTi sheet systems are specifically tailored to support the production of cups, clam shells, lids, trays, domes, and barrier packaging materials. PTi's high capacity co-extrusion sheet systems are used for inline thermoforming applications such as deep-drawn PP beverage cups.
See the Package Forming Equipment page on this company's website.
Types of Package Forming Equipment
Cup/Lid Making Machines
Thermoforming Machines
Package Types:
Cup, Bowl or Tub

Tray