Feeding & Inserting Equipment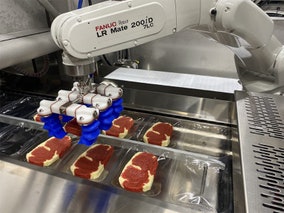 Quest is a supplier of pick-and-place systems for inserting products into packages, cartons and cases, including robotic pick-and-place solutions for direct food handling such as the Quest QP100 family of systems. These versatile picking systems can load, orientate, stack and group products into a wide variety of primary packaging machines such as thermoformers, flow wrappers, and vacuum sealers. The QP100 robotic picking system can be designed to grip hard-to-handle products, such as poultry, meats and cheese, as well as virtually any other product shape. Quest Quik Pick QP200 is a robotic top load pick-and-place solution optimized for loading flexible packaging products in cartons and cases.
See the Feeding & Inserting Equipment page on this company's website.
Types of Feeding & Inserting Equipment
Package Types:
Bag

Stand-up Pouch