Case Packing Equipment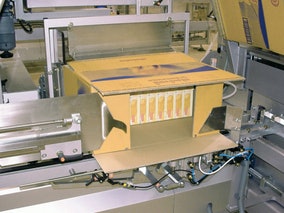 Sidel's case packing machines, systems and add-ons offer solutions to packing needs no matter the complexity of the product. Side's broad range of case packers include traditional or robotic, bottom, side or top loading, pick and place, wraparound that handle a wide variety of case sizes. Sidel also offers combined case packing and palletizing solutions, as well as adaptable vision systems. RSC case packing models include the Cermex SB and SW models, in which products are fed in by single-layer simple transfer or by a mechanical or servo-driven elevating or lowering stacker. Sidel's robotic case handling and packing systems feature a compact, suspended structure design for optimized access and ease of installation into production lines and are fitted with an "intelligent" safety head mechanism to protect the tooling parts.
See the Case Packing Equipment page on this company's website.
Types of Case Packing Equipment
Case or Tray Erect/Load/Seal (Integrated)
Case or Tray Erectors & Formers
Case Sealers
Features:
Adhesive

Auto load

Automatic

Bottom load

Corrugated tray

Horizontal/End/Side Load

Robotic

Robotic loading

RSC-pre glued

Semi-automatic

Vertical/Top/drop load