Food & Beverage Processing Equipment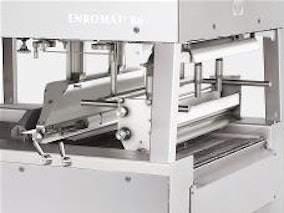 Sollich North America supplies machinery for the food processing industry, with a focus on enrobing, tempering and cooling systems for chocolate and similar fat and sugar-based products, panning equipment for confectionery, pharmaceutical and nutraceutical applications, chocolate molding equipment, cooking, aeration, and sugar beating equipment, and slabe, double piston, wire cut extrusion and rotary molding equipment for chocolate bars, clusters and pralines. Featured machines include the ENROMAT® B6 Basic, suitable for both compound coatings and chocolate and for medium operating speeds of up to approximately 6 m/min.
See the Food & Beverage Processing Equipment page on this company's website.
Types of Food & Beverage Processing Equipment
Chillers, Freezers & Cooling Equipment
Coating, Enrobing, Seasoning & Decorating Machines
Forming & Extruding Equipment
Injectors & Vacuum Stuffers
Mixing & Blending Equipment
Features:
Automatic

Dry process

Semi-automatic

Washdown (wet)

Wet