Food & Beverage Processing Equipment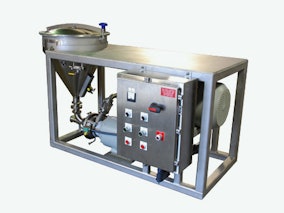 Statco-DSI offers a range of solutions for food processing lines, including mixing and blending equipment for food, liquid, dairy and beer processing applications. Featured systems include the MixSys powder blending system, handling a wide range of food applications such as salsa, salad dressing, salt and chocolate powder processing, in addition to applications in biopharm, liquids and ingredient processing. This desk-height powder blending/mixing system, designed for safety, small footprint, and foam control, utilizes a Fristam FZX vacuum pump and an FS shear blender to quickly and completely incorporate wet and dry ingredients into a liquid stream.
See the Food & Beverage Processing Equipment page on this company's website.
Types of Food & Beverage Processing Equipment
Fermenters & Reactors
Mixing & Blending Equipment
Features:
Dry process

Hygienic (low-moisture)

Washdown (wet)