Pre-made Bag Loading & Sealing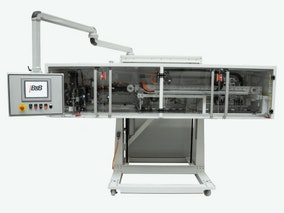 B&B Packaging Technologies manufactures sealing equipment for bags including the CPH-WPP, designed for aligning and sealing woven PP bags and paper bags by using the hot air sealing method and plastic bags by impulse sealing after the filling process. Bag aligner and sealer eliminates the need for pre-applied hotmelt. Sealer can be implemented in existing filling lines and runs up to 65 bpm.
See the Pre-made Bag Loading & Sealing page on this company's website.
Types of Pre-made Bag Loading & Sealing
Bag Closing Equipment
Bag Loading, Filling & Sealing
Bag/Pouch Sealing Equipment
Features:
Adhesive

Automatic

Entry-level/budget models available

Heat seal

Hygienic (low-moisture)

IIoT ready

Inline

Intermittent motion

Manual

PackML controls architecture

Powder

Quad-seal bags

Semi-automatic

Stand-up pouch

Tool-less changeover

Zipper
Package Types:
Bag

Stand-up Pouch