Case Packing Equipment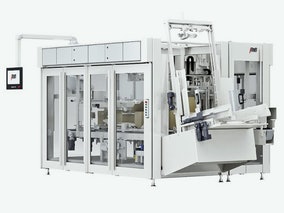 B&B offers a variety of different solutions in case packing, tray, tray with lid, wrap-around or RSC case packaging options for the effective protection for the transport and storage of products. B&B's Universa is a fully automatic case packaging machine which erects and fills up to 15 cpm in a top load, pick-and-place process before closing cases with hot-melt or adhesive tape. Suitable for the end packaging of glasses, bottles, cans, coils, molded bottles and other kinds of products suitable to be transported using vacuum grippers. The B&B Combimatic tray and wrap-around case packaging machine is a servo-mechanical system which fills product and closes/seals with hot-melt glue from flat carton blanks. Bottom trays, high board trays with U-shaped or tray-lid and wrap-around cases are all packaging options offered with the Combimatic at speeds of up to 25 cycles/min. The Kartomat KVA series from B&B is designed to fill and seal RSC type corrugate cases with a wide variety of products including, folded cartons, cylindrical products (garbage bag rolls, wallpaper rolls, stacked cans) and paper products. Closing options of hot-melt and adhesive tape at speeds of up to 30 cpm are possible. B&B case filling equipment can be combined with B&B film wrappers or shrink tunnels in a seamless, complete end-of-line packaging operation.
See the Case Packing Equipment page on this company's website.
Types of Case Packing Equipment
Case or Tray Erect/Load/Seal (Integrated)
Case or Tray Erectors & Formers
Case or Tray Loaders
Case Sealers
Features:
Adhesive

Auto load

Automatic

Corrugated tray

E-commerce

Horizontal/End/Side Load

IIoT ready

Manual

PackML controls architecture

Robotic

Robotic loading

Semi-automatic

Tape

Tool-less changeover

Vertical/Top/drop load

Wraparound
Package Types:
Ampoule or Vial

Bag

Bag-in-box for Liquids

Blister Pack (Retail)

Bottle or Jar

Brick Pack (Laminate)

Can or Canister

Carton (Folding)

Carton (Gabletop)

Cartridge

Chub Pack

Cup, Bowl or Tub

Flow Wrap

Overwrap

Portion Pack Cup

Pouch

Sachet

Sleeve

Stand-up Pouch

Stick Pack

Thermoformed Semi-rigid Pack

Thermoformed Vacuum Pack

Tray

Tube (Flexible)

Vacuum Skin Pack