Food & Beverage Processing Equipment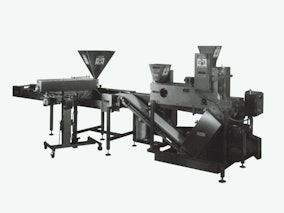 Colborne Foodbotics offers bakery systems for pies, muffins and cakes, as well as pizza crust roller machines. Highlighted in the Colborne Food Foodbotics' range of rotary and inline models for automated pie making is the T-28000 Turnover System, designed to be a versatile and cost-effective machine for making snack pies, meat pies and ethnic specialties including calzones, empanadas, pierogis and similar savory pies at rates of up to 9,000 turnovers per hour. Features multiple sheeting rollers to create gentle dough reduction for tender, flaky dough. Its stainless steel and corrosion resistant alloys meet high sanitation standards. Colborne also supplies inline pie systems, double crust rotary pie machines and an automated tabletop dough forming, sheeting and filling system.
See the Food & Beverage Processing Equipment page on this company's website.
Types of Food & Beverage Processing Equipment
Depositors
Forming & Extruding Equipment
Features:
Hygienic (low-moisture)

Washdown (wet)