Facility Design & Engineering Services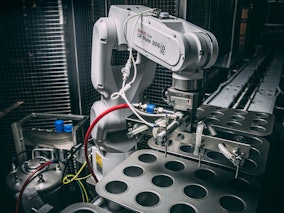 Colborne Foodbotics is a FANUC Robotics Authorized System Integrator, specializing in bakery and food processing and packaging applications. Colborne Foodbotics builds designs, builds, and programs systems in-house with both large and small robot cells for handling applications including vision guided loading/collation and pick-and-place, robotic depanning, robotic pan stacking and unstacking, basket/tray handling and loading, case packing, and palletizing. Recent examples of systems integration projects include robotic cheesecake swirling and a robotic pouch transfer for snack/baked goods. Each integrated system is a whiteboard-designed automation solution tailored to customer's specific requirements.
See the Facility Design & Engineering Services page on this company's website.
Types of Facility Design & Engineering Services